6,000

+ Companies Use
TestDome to

Avoid Bad Hires
Stop wasting time on people who look good on paper but can't do the job. Find top candidates with work-sample skill tests.
TestDome in 90 seconds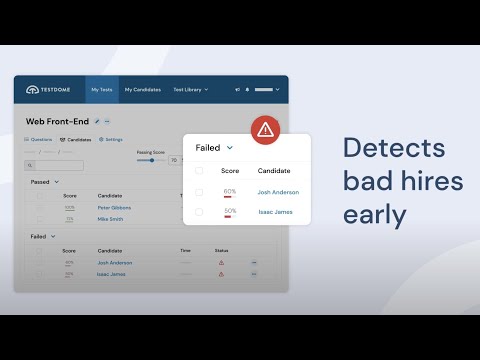 Enjoy the benefits
Interview only qualified candidates
With 80% of candidates failing the test, you can focus on the top 20%.
Read customer experiences
Candidate Quality
"TestDome significantly improves our hiring process and the quality of candidates that we do hire."
Brian M. via Capterra
Price
"The cost per test is much less than it would be if we spend time for unnecessary interviews."
Candidate Quality
"Sometimes, even though a candidate's resume seems technically broad... the results show something completely different. It's helped us a whole lot filtering talent."
Katya D. via G2
Time Saving
"I can tell you my quality of life just went up dramatically. I have done 67 interviews this year and hired 5 people. That's 62 hours of my life I will never get back. Being able to sit back and watch... is amazing."
Devin Smith, USA
Automated Question Scoring
"We don't have the technical proficiency to test candidates for their coding ability. TestDome, for us, is the perfect solution to this."
George O. via G2
Make it great for candidates, too
Getting Feedback
"Thanks for the awesome application process, @TestDome! I saw my score immediately, and I can now set my expectation."
Dodge Ronquillo via Twitter
Accuracy
"The tests are comprehensive and candidates see them as fair representations of their skill."
IT Admin. via G2
Work-Sample Questions
"The tests at TestDome let you think, do real programming, see errors, correct them and, in summary, do what you do when you are at a real work environment."
Gabriel Henao Silva